Welcome to Pulse of Asia
"The Pulse" implies inside knowledge. A person with "his finger on the pulse" is wiser than one who does not.
A transdisciplinary approach to basic and clinical vascular research
Now also accepting original papers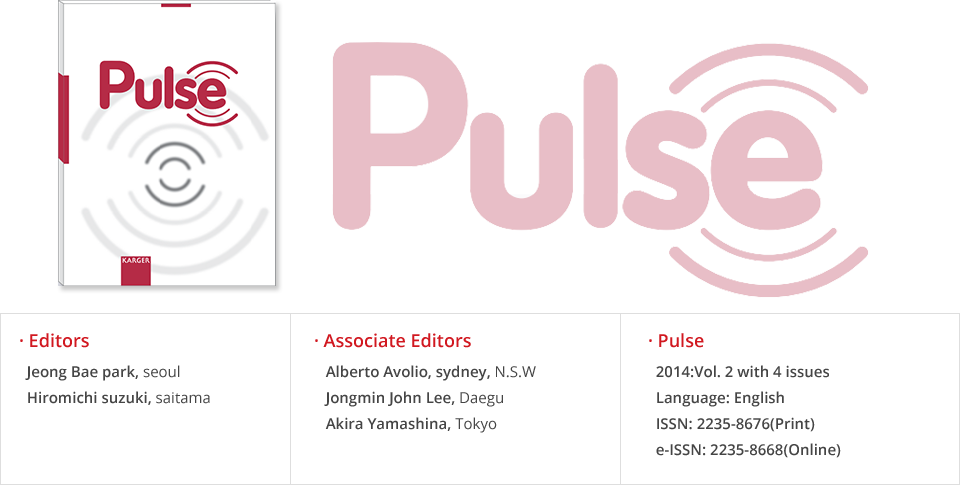 The journal Pulse publishes full-length reviews, mini reviews, and original papers in the field of vascular research. Bringing together the basic
and clinical sciences across a range of disciplines, Pulse provides a forum for communication of the latest findings and hypotheses that enhance our understanding of pulsatile processes and vascular disease. The trans-disciplinary approach of the journal fosters collaboration in relevant areas including cardiology, nephrology, neurology, endocrinology and diabetology, gerontology and general medicine. All articles are subject to rigorous peer-review in order to maintain the highest standards of publication.

The editors welcome submissions from all areas of vascular research, including but not limited to epidemiology, pathophysiology, diagnostics, therapeutics and prevention. Online-first publication ensures prompt dissemination of accepted papers to a multidisciplinary audience with an interest in vascular research.
A transdisciplinary approach to basic and clinical vascular research
The editors cordially invite you to submit your paper to Pulse.
Manuscripts written in English should be submitted to the Editorial Assistant
Stephanie Gygax: s.gygax@karger.com